Saint Elizabeths Hospital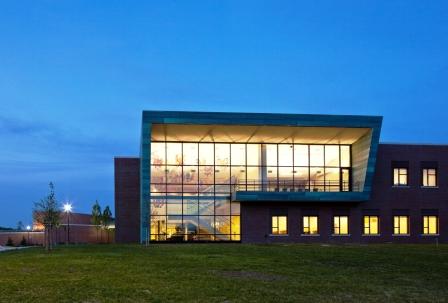 Saint Elizabeths Hospital
1100 Alabama Avenue, SE
Washington, DC 20032
(202) 299-5000
Saint Elizabeths Hospital is the District's public psychiatric facility for individuals with serious and persistent mental illness who need intensive inpatient care to support their recovery. Saint Elizabeths also provides mental health evaluations and care to patients committed by the courts. The Hospital develops a personalized treatment plan to help each patient achieve the highest quality mental health outcomes.
In April 2010, the Hospital moved into a new 450,000 square foot, state-of-the-art facility that incorporates best practices in modern, in patient mental health care with an environmentally sensitive design and sustainable strategies. The new building's therapeutic design includes bright and airy living and treatment areas, green spaces off each patient unit, and enclosed courtyards. A 28,000 square-foot green roof is likely the largest on any psychiatric facility in the country. The Hospital campus has been smoke free since August 2007.
Art created by individuals living in the Hospital is featured throughout the new facility and a museum near the main entrance chronicles the Hospital's history as a leader in humane treatment of people with mental illness.
Saint Elizabeths Hospital is located east of the Anacostia River in Southeast Washington. Its beautiful grounds and historic buildings date back to 1855, and the National Trust for Historic Preservation in 1991 declared the site a National Historic Landmark.
By federal law, the U.S. Department of Justice (DOJ) is responsible for protecting the civil rights of institutionalized persons. Following a review of Saint Elizabeths Hospital in 2005, from January to June, the District Government and the Department of Justice on June 25, 2007 signed a Settlement Agreement (Agreement) [PDF] that outlines how the District will address alleged deficiencies without acknowledging liability and sets a timeframe for completing the changes. In October 2011, the District and the Department of Justice entered into a modified Agreement which suspended monitoring on approximately 115 requirements due to sustained compliance by the Hospital. The modified Agreement also extended its term through September 30, 2012, with a subsequent year of continued monitoring.
Saint Elizabeths Hospital conducts several reports related to the Agreement. It publishes a Performance Related Information for Staff and Managers (PRISM) report that presents monthly data with twelve-month trends on census, basic demographics and selected performance indicators such as unusual incidents, seclusion and restraint usage, and medication variances or adverse drug reactions. The reports are used for quality improvement initiatives by providing critical information about patients and staff performance in delivering timely and effective services. The PRISM report is accompanied by an annual trend analysis that provides data and long-term trends with more in-depth analysis in a variety of areas related to patient care.
In addition, the Hospital's Environmental Self-Assessment Survey [PDF] is a dynamic process of data collection and reporting to identify areas of strength and to improve the quality of the environment in which individual care and treatment occurs. The survey teams consisted of employees, consumers, and other outside surveyors. Fifteen survey categories with 111 standards are included in such areas as general cleanliness and maintenance, food handling, orderliness of nursing stations, and infectious waste and sharps disposals.