Bulletin ID: No. 60 - Residency Verification Directive
Residency is an eligibility requirement for receipt of all mental health services, with the exception of crisis emergency services. Through this directive the DMH is mandating that all providers verify residency prior to enrolling an individual seeking mental health services in the public mental health system. The DMH Office of Accountability shall monitor the residency verification process to ensure the Core Service Agencies (CSAs) are verifying residency as specified in this directive.
Currently, DMH uses eCura information system software to process enrollment data. DMH has established a new field in eCura that must be completed at all points of entry into to public mental health system. The residency requirement field located on the Clinical Enrollment Event Screen in eCura must be completed to verify residency. If this screen is not completed, the eCura system will not allow the individual to be enrolled.
A person requesting mental health services can document residency by providing one of the following:
A valid motor vehicle operator's permit issued by the District;
A non-driver identification card issued by the District;
A voter registration card with an address in the District;
A copy of a lease or a rent receipt for real property located in the District;
A utility bill for real property located in the District;
A letter from a shelter verifying that the shelter is a place of residence for an individual with the intent to remain in the District;
A letter from a nonprofit agency verifying residency;
Confirmation of DC Medicaid eligibility;
Enrollment in a DC Public School;
Verification that parent/guardian is a DC resident; or
In the care or custody of Child and Family Services Administration, Division of Youth Rehabilitation Services or Court Social Services.
These items are located in the drop-down menu within the Clinical Enrollment Event Screen. The provider or Access Helpline staff receiving the request from the individual must check at least one box to describe the documentation presented to verify residency. In instances in which the request for enrollment is taken by the Access Helpline, the assigned clinical home must verify proof of residency prior to providing services.
For existing consumers residency is to be verified during the next update of their IRP/IPC.
A screen shot of the new residency requirement field as it appears in eCura is included.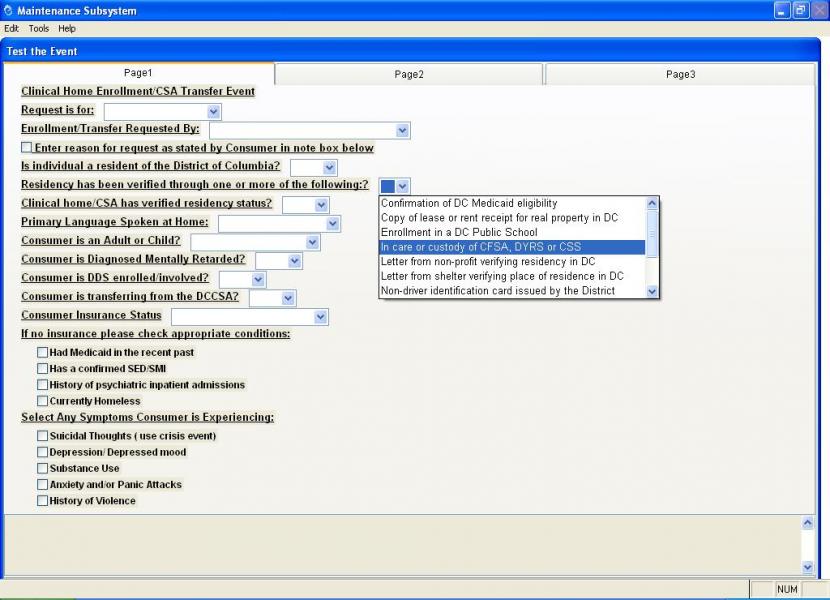 For additional information or instructions regarding how to complete the verification process, please contact your assigned Provider Relations Specialist.